Robert Eggers's talent had shined with his two horror and thriller movies: "The Lighthouse" in 2016 and "The Witch" in 2019. In the last few days, everyone talking about Robert Eager and his 3rd movie is "The Northman".
"The Northman" is Eggers's epic and historical production that came out on 22 April with a 7.9 rating on IMDb, https://www.imdb.com/title/tt11138512/ and received good reviews from most viewers. An epic historical action drama film directed by Robert Eggers, and co-written by Eggers and Sjón. The cast of the movie, includes  Alexander Skarsgård, Nicole Kidman, Claes Bang, Anya Taylor-Joy, Ethan Hawke, Willem Dafoe, and Björk and it takes roughly two hours.
If you like action-filled epic, bloody-Viking scenarios, and Scandinavian legends, you'll enjoy The Northman's story. Let's look closer to The Northman with basic questions 🙂
What's Plot Of The Northman?
The Northman is based on the 10th century in Iceland and tells the story of young Viking Prince Amleth on his quest to avenge his father's murder and for his mother.
Young Viking Prince was happy with his family and is devoted to his father until this happiness ended with his uncle murdering his father in front of his eyes and kidnapping his mother. After he left his father, he swore that "Avenged Father, Save Mother, Kill Uncle" and his purpose turned into this in his whole life. Prince Amleth isn't alone in this journey. When he joined as a slave in a group of captured Slavs for getting close to his uncle, seer Olga is there to help him.
All-Star Cast -Characters Of The Northman: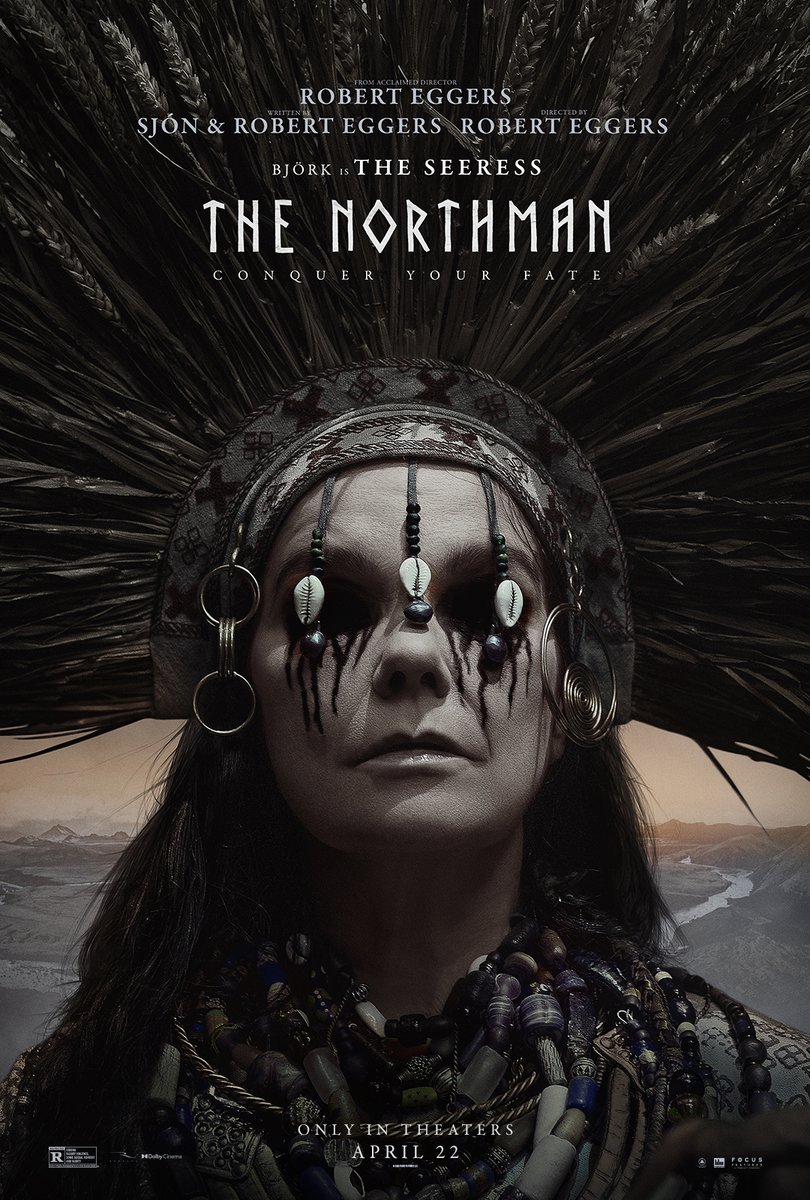 Alexander Skarsgård: He is a Viking warrior prince Amleth and Alexander makes us feel Amleth's sense of revenge, pain, and trauma.
Anya Taylor-Joy: She is a slave to Fjölnir and Gudrún who is herself a sorceress, Olga. She and Amleth become romantic after they meet each other.
Nicole Kidman: She is Gudrún, the Viking queen and mother of Amleth. She is taken captive when her Viking King husband by his brother.
Claes Bang: Fjölnir the Brotherless is Aurvandill's and after Aurvandill returns from war, he kills his brother and takes Gudrún as his wife.
Ethan Hawke: He is a Viking King Aurvandill.
Björk: The Seeress foretells what will happen, and guiding to Amleth on his path.
Is The Northman's Story Coming From Hamlet?
Many reviews compare The Northman by Robert Eggers and Hamlet by Shakespeare and they're familiar with many points that's why their common decision is The Northman is a Viking version of Hamlet.
Hamlet is based on the story tells Hamlet's revenge story from his uncle who murdered his father and married his mother. In this tragedy, Hamlet and The Northman are sharing same topic as a blood-revenge story but we can't say that The Northman's starting point from Hamlet because also Hamlet was inspired by the legend of Amleth, which was a small section of a larger saga written in the early 13th century by a Danish historian named Saxo.
Robert Eggers made the movie with Scandinavian legendary in Viking ages. He explained the reason for choosing the basic this same plot in interviews and said that wanted to create a story that everyone can follow easily.
Why The Northman's Reviews Are Positive Mostly:
Even the plot of the story is the same and looks kitsch, but still, The Northman has many good reviews and opened to good rates. Let's look at why it has positive reviews 🙂
First thing should be Robert Eggers effects for 🙂 His first two movie have very good comments from their audiences and he gained a big fan. Also the same group was waiting The Northman impatiently.
Second thing is definitely all-star cast that's why we see many delightful performances while we're watching the movie.
Another thing is which many people agree, powerful imagery, display of all settings reflect the Viking age very well. One of the accurate movie we felt with storytelling, Norse mythology, and motifs.
If you would like to watch a dark, brutal, and violent Vikings tale with impressive shots, you can give a chance to The Northman 🙂 Or if you would like to watch a different kind of taste, here for you 🙂 https://themozinity.com/90s-tv-series-you-should-absolutely-catch-up-on/