Mother's Day is celebrated in more than 50 countries but not on the same day. However, have you ever wondered where it started and its origins? While many countries have a multi-century history of how Mother's Day was created, the modern American version of the holiday began in the United States in the early 20th century.
see als:5 Movies You Should Watch On Cold Winter Days
In this article, we will share with you some interesting facts about how the event was founded. 
The origins of Mother's day: 
It dates back to the Ancient Greeks and Romans, who held festivals in honor of the mother goddess, Rhea (the mother of the Gods), and Cybele. During the Middle Ages, the custom developed of allowing those who had moved away to visit their home parishes and their mothers on Laetare Sunday, the fourth Sunday of Lent.
In the 1900s, Mother's Day declined in popularity but rose to fame through the efforts of an American woman named Anna Jarvis and other pioneers: 
Anna Jarvis (1864 – 1948): was the founder of Mother's Day. In May of 1907, after her mother passed away, Anna held a memorial service at the Methodist Church in Grafton, West Virginia, which was her mother's favorite church. Apart from being succesful, it was also such a moving tribute, that she and others decided to keep the tradition going. The following year, on May 10, a Mother's Day service was held at that same church to acknowledge all mothers. Within five years, every state in the US was celebrating the day. 
Julia Ward Howe (1810 – 1910): was an advocate for abolitionism and a social activist. In 1870, she wrote the "Mother's Day Proclamation", a call to action that asked mothers to unite in promoting world peace. In 1873 Howe campaigned for a "Mother's Peace Day" to be celebrated every June 2.
Juliet Calhound Blakely: a temperance activist, started a Mother's Day celebration in Albion, Michigan, in the 1870s. Afterward, her sons paid tribute to her and encouraged others to honor their mothers as well.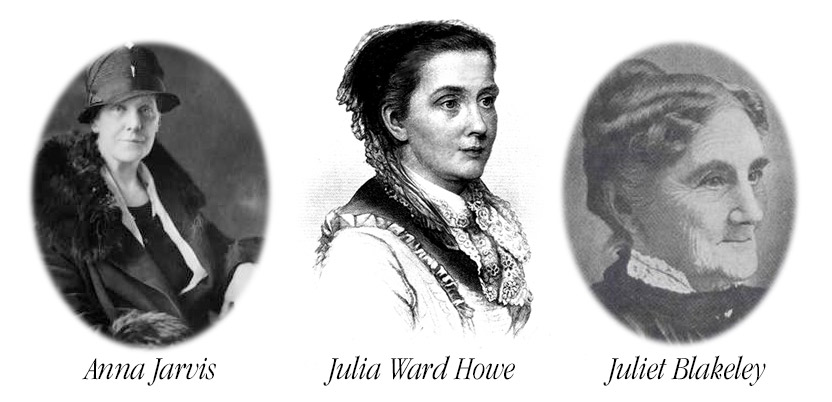 How it started: 
In May 1908, Anna organized the first official Mother's Day celebration at a Methodist church in Grafton, West Virginia. The purpose of Mother's Day, according to Anna, was to honor all mothers all around the world. She wanted the day to be celebrated by wearing a white carnation (which was her late mother's favorite flower) as a badge, in tribute to all mothers, and also, visiting one's mother or attending church services. The carnation custom, over time, turned into the wearing of a red or pink carnation for a living mother, and a white carnation for a deceased one. Not only were mothers honored on the day, but also those who played the role of one, for example, grandmothers, great-grandmothers, foster mothers, stepmothers, and aunts. 
In 1914, US President Woodrow Wilson made Mother's day as a national holiday.
Over time, Mother's day became commercialized, as florists and card companies rose in popularity. The event became associated with sending cards; giving gifts, flowers, chocolate, and other presents. According to many sources, Ann wanted to honor her mother, claiming that her mother was the originator of the real Mother's Day. Unfortunately, she was disgusted to see it become more advertised and urged people to stop buying gifts. Anna also tried abolishing the holiday during her last years and persuaded the government to get rid of it, but failed. She passed away in 1948. 
Did you know? More phone calls are made on Mother's Day than any other day of the year. 
So if Mother's Day is being celebrated in your country, make sure to give your mum a call, or a big hug. Let her know she is the best mom in the world!